The Chiro Workout Exercise Classes
Get Your Foundation Right!
The Chiro Workout combines the latest in Whole Body Vibration Therapy, Dynamic Stability Training, Pilates & Breathing Techniques
Only 2 per 30-min. class
Increased energy (1)
Stronger bones (2)
Improved flexibility & posture (3)
Better balance (4,5)
Muscle strength (6)
Better outcomes in less time
Tailored to the individual
Suitable for all ages (4)
The 3 Core Principles of The Chiro Workout aim to strengthen and enhance
spine and pelvic foundation by addressing the following: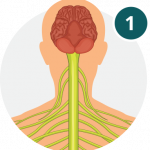 1. A Strong Neurological Foundation
Enhancing the Brain-Body neurological connection through exercise is the main goal of the Chiro Workout.
Movement is like a nutrient to the brain!
The Chiro Workout prioritises exercises that build both strength and endurance in the Neuromuscular system, creating movements which stimulate the nervous system and engage the brain.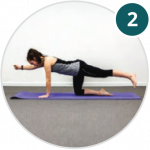 2. Postures in the Least-Loading Positions First
We aim to avoid irritating underlying problems throughout the spine and nervous system by building strength in the postures that apply the least amount of stress on the spine first.
These least-loading exercise positions are well established from a research perspective (8). It just makes sense to start here and get the foundation right!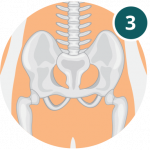 3. Pelvic Alignment & Function
We often describe the pelvis at 'The Big Secret to a Weak Core.'
The pelvis accounts for an estimated 25% of lower back pain (7), but because the pelvis is your foundation, it's involved in it a whole lot more. The pelvis transfers postural forces and has a significant impact on the neuromuscular control of both the torso and lower limbs.
Our unique approach will assess pelvic alignment throughout the functional movements so that you only work in a safe range.
Complimentary Introductory Offer
Assessment (15 min.) – includes Core-Stability, Posture & Pelvic Alignment
Initial Class (30 min.)
Maximum 2 per class with qualified instructor
---
Paradisis G. Effects of Whole-body Vibration Training on Sprint Running Kinematics and Explosive Strength Performance. J Sports Sci Med. 2007 Mar; 6(1): 44-49.
(1) Cochrane DJ. Acute whole body vibration training increases vertical jump and flexibility performance in elite female field hockey players. Br J Sports Med. 2005 Nov;39(11):860-5.
(2) Gusi N. Low-frequency vibratory exercise reduces the risk of bone fracture more than walking: a randomized controlled trial. BMC Musculoskelet Disord. 2006; 7: 92.
(3) Sealy R. Acute Exercise In Vietnam Veterans Is Associated With Positive Subjective Experiences. Int J Exerc Sci 3(1): 36-42, 2010.
(4) Zhang L, 'Effect of whole-body vibration exercise on mobility,balance ability and general health status in frail elderly patients: a pilot randomized controlled trial.' Clin Rehabil. 2013 Jul 17.
(5) R, 'Effects of Exercise Interventions on Physical Condition and Health of Vietnam Veterans.' International Journal of Therapy and Rehabilitation, August 2011, Vol 18, No. 8.
(6) Paradisis G. Effects of Whole-body Vibration Training on Sprint Running Kinematics and Explosive Strength Performane. J Sports Sci Med. 2007 Mar; 6(1): 44-49.
(7) Vleeming A. 'The sacroiliac joint: an overview of its anatomy, function and potential clinical implications'. J Anat. 2012 Dec; 221(6): 537-567
(8) https://www.backfitpro.com/books/ultimate-back-fitness-and-performance-6th-edition-2017
---
The Chiro Workout Exercise Classes | North Brisbane | (07) 3356 9552