Fermentation Workshop with Daniela & Jess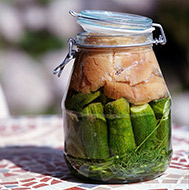 Where: Stafford Chiropractic & Wellbeing Centre
When: Wednesday, 21st March 2018
Time: 7pm-8.30pm
Tickets: $30 per ticket
Our fermentation workshop is packed full of information about fermentation, gut health and links between the gut and disease.
Great for all levels of expertise, and covers an array of fermented foods including saeurkraut, kimchi, kombucha, jun, kefir, fire cider and fermented veggies, and includes a short presentation on the background of fermented foods and how they affect our health.
You'll get to taste-test some of the ferments, and receive an eBook with all the recipes from the evening. You'll also take home a mother culture and have the opportunity to purchase fermenting starter kits. Leave the night full of inspiration and new-found knowledge on the importance of gut health, fermentation, and ways to dramatically improve the health of you and your family.
Numbers are limited so reserve your place now! $30 per ticket.
Presented by our in-house fermentation gurus, Daniela Le Sueur & Jessica Redmond.